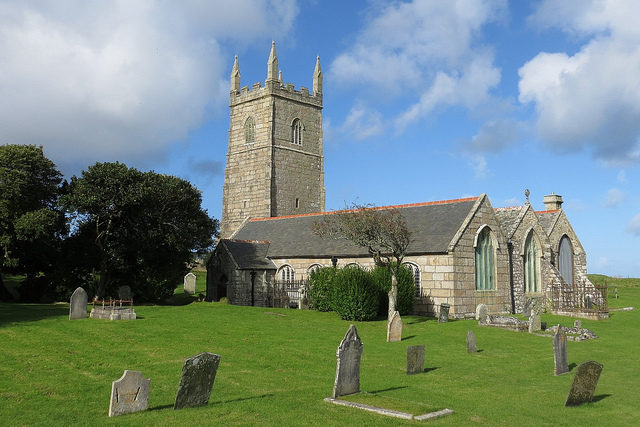 St Uny's Church, Lelant
St. Uny Church is the beginning of the St. Micheal's Way section of the Cornish Pilgrimage, taking us to the conclusion of out journey.
Lanner to St. Ives
If leaving the Lanner Inn or crossing Carn Marth from vogue, locate the Tresavean Tramroad beyond the top of Lanner Village ( marked with yellow tape at Tram Cross Lane). Walk uphill to the Tresavean Junction where there is a Guest House; continue a bit further uphill from here and turn right along a narrow track which leads to a road serving the village of Brea. Cross carefully and join the footpath opposite; here you will have outstanding views of Redruth below to the right and Carn Brea Castle high above on the left. The castle remains a good land mark as the trail descends to Churchtown and links with Route 3 which then follows a course across the Carne to Pool Mineral Centre. The route joins the Great Flat Lode for a mile exposing participants to haunting views of the old castle, (there is also a steep trail to the ruin). At Pool there is a leisure centre close by and a few shops, but it is not necessary to enter the town as Route 3 continues to Camborne. This substantial town founded its fortune through the prolific mining boom of the 19th century and remains a busy place in contemporary times. Between here and Hayle Route 3 takes in neighbouring villages such as Penponds, Carnhell Green and Gwinear before descending into Copperhouse. Heading towards Hayle from here you can either walk the thoroughfare or follow the King George cycleway via the estuary to reach the town centre and viaduct. The lovely coast journey ahead opens up views of Hayle Estuary, the branch train line to St Ives and the beautiful Lelant Church which is the start of the St Michael's Way. From the church you can walk the coast to St Ives which is less than 4 miles. Be prepared to walk back to the St Michaels Trail at the Cornish Arms, Carbis Bay the next day to commence the last section of the Pilgrimage.